AcupunctureProducts.com - Charts
Acupressure Facial Rejuvenation Points Chart 8.5" X 11" (21.6 cm X 27.9 cm)
Improve the flow of Qi and slow the signs of aging by massaging these points
Our Acupressure Facial Rejuvenation Points Chart helps to promote healthy skin by improving overall health and well being to the whole body. Treating the acupoints of the face promotes the flow of Qi and increases blood flow throughout the skin on the face while helping remove toxins. Acupressure helps you look healthier from the inside out.
The ear Master control points have a positive balancing effect on the autonomic system and endocrine system. These points are very effective at relieving stress and anxiety that can show up on the face. These acupuncture points are commonly treated with press tacks and left in for longer periods of time as recommended by acupuncturists.
The chart contains 16 acupressure points on the face with point locations & conditions helped, 10 ear Master control points with conditions helped & frequencies used for microcurrent therapy and essential oils used in facial massage listed by skin condition (normal, oily, dry and combination skin).
8.5" X 11" Double-Sided Laminated Cosmetic Acupuncture Chart
Chart Close-Up
Key Features:
• 16 rejuvenating facial acupressure points
• Easy to understand point locations & conditions helped
• 10 Ear Master control points for reducing stress & anxiety
• Treatment protocol for face and auricular points
• List of Essential Oils for facial massage based on skin type
Acupressure Facial Rejuvenation Points when used with a healthy diet and lifestyle help to:
- Softens wrinkles
- Improve muscle tone
- Decrease puffiness and bags under eyes
- Increase blood flow
- Healthier radiant skin
- Decrease effects of stress on face
- Reduce double chins
- Lift sagging eyelids
- Decrease headaches
- Alleviate stress
- Promotes overall health and well being
Laminated Double-sided Acupressure Facial Rejuvenation Points Chart 8.5" X 11" (21.6 cm X 27.9 cm)
Please check your shipping address before completing your transaction with Paypal!

$9.95

+ Shipping.

Microsystems of the Face & Head Acupuncture

Acupuncture chart of the microsystems of the face and head. The chart includes the: Chinese face microsystem, Chinese scalp system, Chinese nose system, Teeth organ relationship and lip microsystem from traditional Ayurvedic.





Smoking Cessation Ear Acupuncture Points Chart

Laminated 8.5 X 11 chart with the smoking cessation formula and you get formulas for weight loss, alcoholism and drug addiction. Each condition comes with treatment protocols and additional body acupuncture points.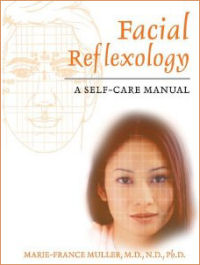 Facial Reflexology: A Self-Care Manual
by Marie-France Muller M.D. N.D. Ph.D.
It is possible to rub certain zones of your face to relieve a backache or the beginnings of a migraine. It is likewise possible to stop a common cold from developing in less than a minute. Facial reflexology, one of the simplest and most effective healthcare methods, provides rapid relief for many of these common ailments. Developed in 1980 by Vietnamese doctors in Ho Chi Minh City as a less invasive alternative to facial acupuncture, facial reflexology uses healing principles based on the I Ching and Buddhist teachings. The therapy is simple enough that it can be self-administered by a beginner with immediate results and is also a valuable tool for healthcare professionals.

In Facial Reflexology Marie-France Muller introduces this healing practice to the English-speaking world for the first time. She describes the mechanics of facial reflexology--facial diagnosis, facial pressure points, reflex zones, massage and pressure techniques--and provides healing routines both for treating acute ailments and maintaining overall good health. Included is an extensive dictionary of more than 200 common ailments, accompanied by therapeutic instructions and easy-to-follow diagrams of the points to be stimulated, for complaints such as indigestion, asthma, pinched nerves, fatigue, insomnia, menstrual cramps, migraines, high blood pressure, sprains, pulled muscles, and even the common cold.
---