AcupunctureProducts.com - Acupuncture Posters
Acupuncture Microsystem Poster 24" X 36"

(Laminated or Photo Paper)

This poster shows the main Chinese auriculotherapy points, ear anatomy, NADA addiction pointsmaster control points with indications for the master control points.
Foot reflexology areas of the sole of the foot. Spine relationships on the arch of the foot.
Contains both Chinese and Korean hand acupressure/acupuncture points, used by acupuncturists, reflexologist and massage therapists.
A quick easy reference poster that is also educational.
Acupuncture Microsystem Poster 24" X 36"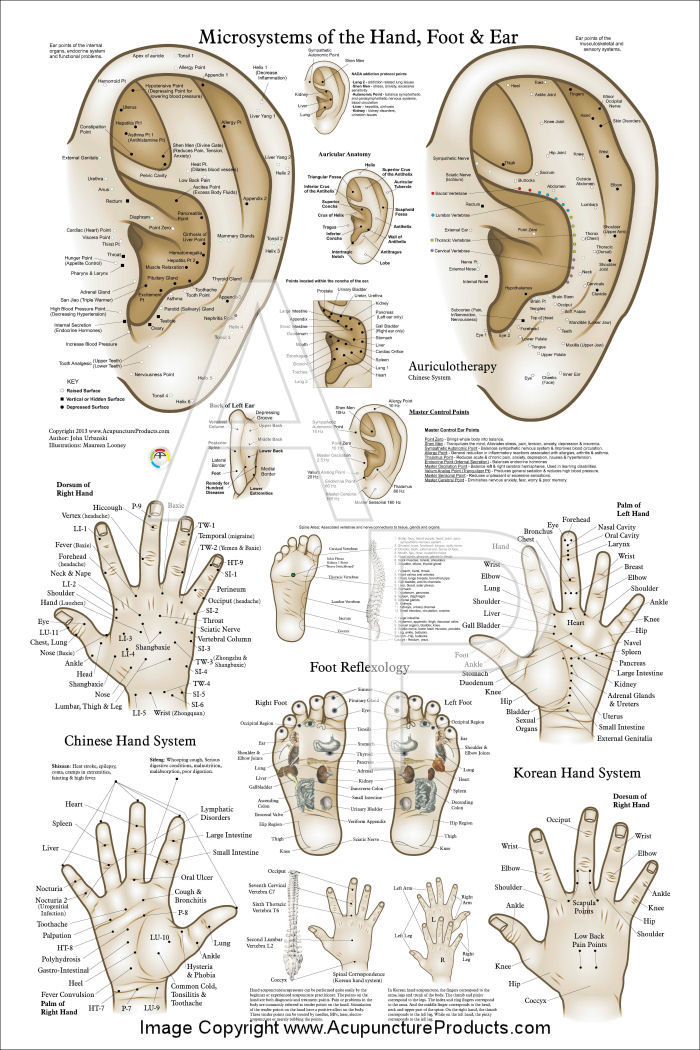 Auriculotherapy is the stimulation of the auricle part of the external ear for the diagnosis and treatment of health conditions in other parts of the body. The stimulation can be done with acupuncture needles, often referred to as ear acupuncture. The stimulation can also be done by manual pressure, referred to as auricular acupressure (ear reflexology). These points on the ear can also be stimulated with lasers, magnets, microcurrent, and ear pellets. This auricular acupuncture chart is a favorite among acupuncture students.
Key Features:
• Chinese auriculotherapy points
• Auricular anatomy landmarks
• NADA addiction treatment formula
• Master control points with frequencies and indications for each Master control point.
• Foot reflexology areas
• Both Chinese and Korean hand acupuncture points.
Acupuncture Microsystem Poster 24" X 36" (Laminated or Photo Paper)
Please check your shipping address before completing your transaction with Paypal!


Money back guarantee on all orders.
Acupuncture Microsystem Poster - 24" X 36"

Semi-Gloss Photo Paper

$22.00

+ Shipping

Acupuncture Microsystem Poster - 24" X 36"

Laminated

$27.00

+ Shipping
---