Acupuncture Point Location Quizes
Welcome to Acupuncture Products free quiz section. Match the five points with their correct location. Click on the answer button to view the answers.
Visit our free charts page to download free point locations and more.
Point Location Quizes
---
Acupuncture Exam & Test Books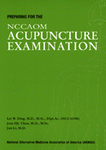 Preparing for the NCCAOM Acupuncture Exam
by Lei Ding, Jean Chen, et al
This book was written and compiled by a group of medical doctors, acupuncturists, and professors in order to help applicants to the NCCAOM Acupuncture Examination prepare and self-assess for the certification examination. It includes 1000 multiple-choice questions (with answer keys), on topics that reflect the content outline of the NCCAOM examination.
The questions follow the format used on the NCCAOM examination. Though neither condemned nor recommended by the certification body, the book is likely to be helpful as a preparatory tool. Some users claim that there are unremarked errors in the book, so users should be aware of this and know that thorough familiarity is always the best course.
---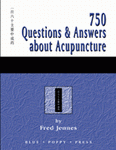 750 Quesions and Answers About Acupuncture
Exam Workbook & Study Guide
by Fred Jennes
This book is a study guide and exam preparation workbook for Chinese acupuncture. Comprised of 750 questions and answers, it is a book written by an educator who is a licensed acupuncturist.
It is intended for both students who are preparing for the NCCAOM Board exams and licensed practitioners who wish to bone up on their point location and theory. There are four sections--General Theory, Point Location, Point Theory, and Case Studies.
All questions are written in Board Exam format, and many questions employ illustrations to test the reader's knowledge.
---

Tests: Chinese Acupuncture & Moxibustion
by Cui Yongqian, Chen Ken
A selection of multiple choice, true-false, fill-in-the-blank, term definition, case analysis, and Q&A questions drawn from the text of Chinese Acupuncture and Moxibustion are designed to help the student self-test for comprehension and content.
Answer keys are provided to all questions and case analysis, Q&A and term definition questions are explained in depth.

---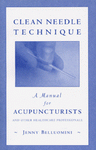 Clean Needle Technique: Manual for Acupuncturists
by Jenny Belluomini
This book accurately covers all the information and techniques required to safely handle needles in a clinical setting. It describes the clinical application of microbiology to the practice of acupuncture, including infection control, sterilization, disinfection, antisepsis, and needle disposal or resterilization.
It details cardiovascular, iatrogenic, infectious, and other complications and contraindications to safe acupuncture treatment, and finally provides clinical protocols including needle insertion and ear needle insertion.
A must-have reference and study text for students and practitioners alike.
---

Acupuncture (TCM Study Guide Series)
by Cun Wu Shi, Shi Cun Wu
Publisher: Kang Tai Press; 2nd ed edition


TCM Study Guide Series: Acupunture provides resource material and multiple-choice questions designed to help TCM practitioners and students prepare themselves to take acupunture board tests. The book's 2,200 questions cover point location and function, needling techniques, moxibustion, ear and head acupunture, case diagnosis, and treatment strategies.
Answers to all of the questions are found in the back of the book.
The book's resource material provides the location of every primary meridian point, information on point function, special points, points of intersection, ear acupuncture, and a table of terminology equivalencies.
---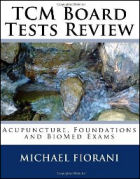 TCM Board Tests Review: Acupuncture, Foundations and BioMed Exams


Created for TCM Students, by a TCM student.

This book is to help stressed and confused TCM students relax and narrow down the important information and resources to study for their Acupuncture, Foundations and BioMed Exams.
Have a set of Acupuncture or TCM questions you would like to submit?
Please contact us and we will post your questions and answers.
---
---