AcupunctureProducts.com - Acupuncture Posters
Korean Hand Therapy Meridian System Poster 18" X 24"

(Laminated or Photo Paper)
Meridian Hand Therapy is effective for treating the whole body
Koryo Hand Therapy is very effective in treating a wide range of ailments through the stimulation of acupuncture points found on the microsystem of the hand. The function of the human body can be manipulated by stimulating the corresponding points on our hands.
Also available in 8.5" X 11"
According to the theory of 'Koryo Hand Therapy', there are 14 micro-meridians and 345 acupuncture points on our hands which regulate the internal organs of human body. Thus the physiological function of the entire body can be regulated by stimulating these acupuncture points on the hands.
18" X 24" Korean Hand Acupuncture Poster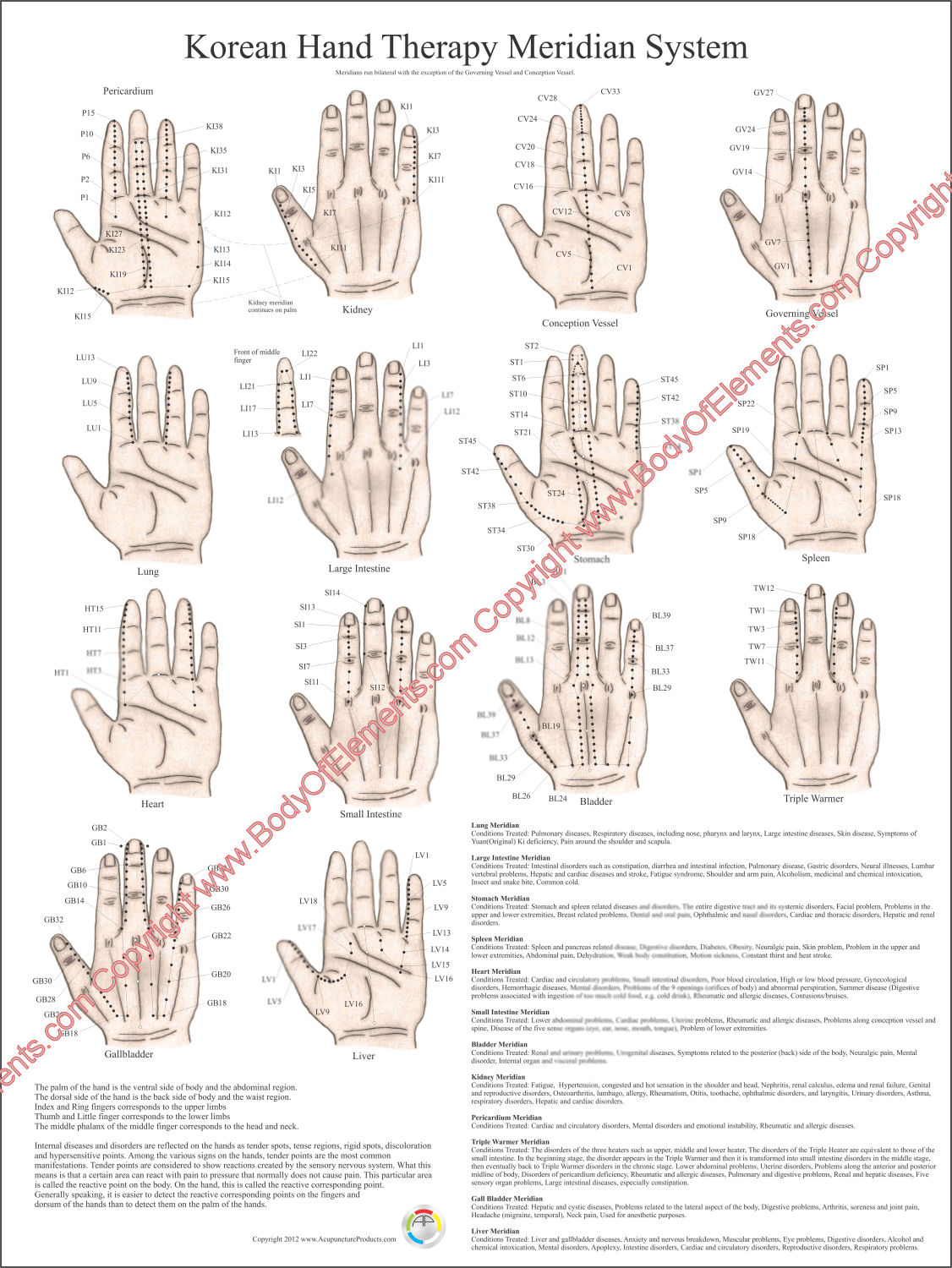 Close-up of poster
Key Features:
• Represents the 12 main meridian pathways
• Governing Vessel and Conception Vessel meridians
• 345 acupuncture point locations
• Shows conditions treated when there is an imbalance in one of the meridians.
Korean Hand Therapy Meridian System Poster 18" X 24" (Laminated or Photo Paper)
Please check your shipping address before completing your transaction with Paypal!


Money back guarantee on all orders.
Korean Hand Therapy Poster - 18" X 24"

Semi-Gloss Photo Paper

$16.00

+ Shipping

Korean Hand Therapy Poster - 18" X 24"

Laminated

$20.00

+ Shipping

Microsystem Poster 18" X 24"

This poster shows the main Chinese auriculotherapy points, ear anatomy, NADA addiction pointsmaster control points with indications for the master control points. Foot reflexology areas of the sole of the foot. Spine relationships on the arch of the foot.





Chinese Hand Acupuncture Poster 18" X 24"

Chinese Hand Acupuncture poster with over 60 points mapped out on a full color hand, back and front. Extraordinary acupuncture point information for points not found within the main meridian system. Great chart to learn hand acupuncture.



---