State Associations & Organizations
Acupuncture and TCM state associations and organizations
---
ALABAMA
Alabama Association of Oriental Medicine
Hidden Creek Professional Park
28311 N. Main St. Ste B-101
Daphne, AL 36526
(251) 626-5066
ARKANSAS
Arkansas Association of Oriental Medicine - www.araaom.org
619 East 6th Street - Texarkana, AR
(870) 772-8622
ARIZONA
Arizona Society of Oriental Medicine and Acupuncture - www.azsoma.org
6370 E. Thomas Road,
Suite A-240
Scottsdale, AZ 85251
(480) 970-1076
CALIFORNIA
California Acupuncture Medical Association
1042 S. San Gabriel Blvd.
San Gabriel, CA 91776
(626) 287-0938
California Certified Acupuncturist Association
777 Stockton St., Suite #106
San Francisco, CA 94108
(415) 981-8384
California State Oriental Medical Assn. - www.csomaonline.org
2710 X St., Ste. 2A
Sacramento, CA 95818
(800) 477-4564
United California Practitioners of Chinese Medicine
COLORADO
Acupuncture Association of Colorado - www.acucol.com
19 South Jackson St.
Denver, CO 80209
(303) 355-5257

CONNECTICUT
Connecticut Holistic Health Association - www.cthha.org P.O. Box 1585
New Canaan, CT 06840-1585
203-364-0222
FLORIDA
Florida State Oriental Medicine Association - www.fsoma.com/
335 Beard St.
Tallahassee, FL 32303
(850) 222-6000
GEORGIA
Georgia Association of Medical Acupuncturists (GAMA) - www.georgiaacupuncture.org
6255 Barfield Road Suite 175
Atlanta, GA 30328
404-255-8388
HAWAII
Big Island Acupuncture Association
72-3996 Hawaii-Belt Rd.
Kai Lua-Kona, HI 96740
(808) 325-7778
IDAHO
Idaho Acupuncture Association - www.idahoacupuncture.org
2717 W Bannock, Suite 101
Boise, ID 83702
208-724-0191
ILLINOIS
Illinois Association of Acupuncture & Oriental Medicine - www.ilaaom.org/
5315 North Clark Street., Suite 611
Chicago, Illinois 60640
Phone Number: 312-962-0333
INDIANA
Indiana Association of Acupuncture and Oriental Medicine - www.iaaom.org/
5610 Crawfordsville Rd, Ste 103
Speedway, IN 46224
(317) 240-8009

KANSAS
Acupuncture Association of Kansas
9235 E. Harry Bldg. 100, #1-A
Wichita, KS 67207
(316) 691-8822

KENTUCKY
Kentucky State Association for Acupuncture and Oriental Medicine - kyacu.org
1206 E. Kentucky St.
Louisville, KY 40204
(502) 451-7180

MAINE
Maine Association of Acupuncture and Oriental Medicine - www.maineacupuncture.org
29 Mountain Street
Camden, ME 04843
(207) 236-3601

MARYLAND
Maryland Acupuncture Society - www.maryland-acupuncture.org
13991 Clarksville Pike
Highland, MD 20777
(301) 270-2117

MASSACHUSETTS
Acupuncture and Oriental Medicine Society of Massachusetts - www.aomsm.org
Beverly, MA 01915
Acupuncture Society of Massachusetts
P.O. Box 322
Lincoln, MA 01773-0322
(800) 444-1516
(781) 893-2185
MICHIGAN
Michigan Medical Acupuncture Association - www.michiganmedicalacupuncture.org
2040 Raybrook SE, Suite 103
Grand Rapids, MI 49546
Phone: 888-375-7245
Michigan Association of Acupuncture & Oriental Medicine - www.michiganacupuncture.org
4655 Dobie Rd., #270
Okemos, MI 48864
(517) 347-2293

MINNESOTA
-
MISSOURI
Acupuncture Association of Missouri - missouriacupuncture.org
Jefferson City, MO 65102
Phone: (573) 635-6044
MONTANA
Montana Association of Acupuncture & Oriental Medicine
1200 S. Reserve St., Suite H
Missoula, MT 59801
(406) 728-1600
NEBRASKA
Nebraska Oriental Medical Association - www.omahahealingarts.com

621 Beverly Drive
Omaha, NE 68114
(402) 397-8018
NEVADA
Nevada Oriental Medical Association
4475 S. Pecos Rd.
Las Vegas, NV 89121
(702) 486-7280
NEW HAMPSHIRE
New Hampshire Acupuncture Society - www.nhaaom.org/
P.O. Box 60
Cornish Flat, NH 03746-0060
(603) 795-4646

NEW MEXICO
New Mexico Society for Acupuncture and Asian Medicine (NMSAAM) - www.nmsaam.org
PO Box 91353
Albuquerque, NM 87199
Contact: nmsocaam@gmail.com
NEW JERSEY
New Jersey Acupuncture Association
373 E. Main St.
Somerville, NJ 08876-3187
(908) 526-5868
New Jersey Acupuncture and Oriental Medicine Association - www.njaaom.net
NEW YORK
Acupuncture Society of New York - www.asny.org
1858 Pleasantville Road, #112
Briarcliff, NY 10510-1038
(718) 847-7278
OHIO
Ohio Association of Acupuncture and Oriental Medicine - www.oaaom.org
14701 Detroit Avenue, Suite 485
Lakewood, OH 44107
Phone: 614-668-2886
NORTH CAROLINA
North Carolina Association for Acupuncture and Oriental Medicine - www.ncaaom.org
1500 Scott Avenue
Charlotte, NC 28203
(704) 737-4412

OKLAHOMA
Oklahoma Acupuncture Society
100 N. Garfield
Sand Springs, OK 74063
(918) 456-2292
Oklahoma Acupuncture Association - www.okacupunctureassociation.org
OREGON
Oregon Association of Acupuncture and Oriental Medicine - www.oaaom.com
PO Box 14615 – Portland – OR – 97213-0615
PENNSYLVANIA
Acupuncture Society of Pennsylvania
P.O. Box 7676
Philadelphia, PA 19101
(215) 922-6991
Association for Professional Acupuncture in Pennsylvania - www.acupuncturepa.org
RHODE ISLAND
Rhode Island Society of Acupuncture and Oriental Medicine - www.RISAOM.org
P.O. Box 6681
Providence, RI 02940-6681
(401) 274-1011

TENNESSEE
Tennessee Acupuncture Council
5575 Popular Avenue
Memphis, TN 38119
(423) 239-7044
TEXAS
Texas Association of Acupuncture and Oriental Medicine - www.taaom.org
PO Box 770173, Houston, TX 77215-0173
713-780-9777
UTAH
Utah Acupuncture Association
545-E 4500 SE #230
Salt Lake City, UT 84107
(801) 263-9380
VERMONT
Association of Acupuncture & Oriental Medicine (VAAOM)
7 Fayette Road
South Burlington, VT 05403
(802) 862-8880
rdavis@acupuncturevermont.com
Vermont Association of Acupuncture & Oriental Medicine www.vaaom.org
VIRGINIA
Acupuncture Society of Virginia - www.acusova.com/
P.O. Box 1671
Vienna, VA 22183
(703) 644-7925

WASHINGTON
Washington East Asian Medicine Association - weama.info
2311 N. 45th St., Ste. 288
Seattle WA 98103
206.329.9094
WASHINGTON DC
Acupuncture Society of the District of Columbia (ASDC) - - www.dcacupuncture.org/index.htm
WISCONSIN
Wisconsin Society of Certified Acupuncturists - www.acupuncturewisconsin.org
235 E. Capitol Dr.
Hartland, WI 53029
(262)367-9106
---
Locate an Acupuncture
Office or Practitioner
Acupuncture Meridian Posters


Set of 3 acupuncture meridian posters for the twelve main meridians, the Conception vessel and Governing vessel. Each laminated poster measures 17" X 22". These unique meridian charts contain pictures with point locations, five element phase points and five element command points.
Acupuncture Microsystem Poster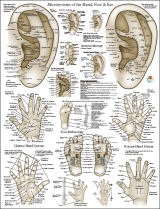 This poster shows the main Chinese auriculotherapy points, ear anatomy, NADA addiction pointsmaster control points with indications for the master control points. Foot reflexology areas of the sole of the foot. Spine relationships on the arch of the foot. Contains both Chinese and Korean hand acupressure/acupuncture points, used by acupuncturists, reflexologist and massage therapists.
Horse Acupuncture Posters


Transpositional equine acupuncture point location laminated posters. The posters show over 170 most commonly used points in horse acupuncture. Anatomical point locations with treatment indications for each point. The transpositional system is the nomenclature accepted by the International Veterinary Acupunctre Society (IVAS). Clear picture showing the muscles of the horse for easy point location.