Acupuncture and TCM Books
The Acupuncture Handbook of Sports Injuries & Pain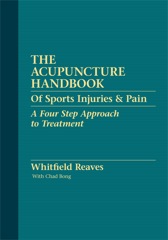 The Acupuncture Handbook of Sports Injuries & Pain
Check availability and prices at Amazon
by Whitfield Reaves, With Chad Bong
The Acupuncture Handbook of Sports Injuries and Pain is a clinical manual that integrates traditional Chinese acupuncture with western orthopedic and sports medicine. It clearly outlines the diagnosis, assessment, and treatment protocol for 25 common sports injuries and pain syndromes. Using a simple Four Step approach, treatment for each condition is organized into 10 easy-to-follow techniques. The Acupuncture Handbook brings new insight and intrigue into treating injuries and pain. This spiral-bound book is designed for easy use by the practitioner of acupuncture, and may serve as a clinical guide for diagnosis, assessment, and treatment.
Section I presents a unique Four Step Approach, which includes 10 techniques of acupuncture.
Section II covers the diagnosis and assessment of each of the 25 injuries, followed by acupuncture treatment and techniques using the Four Steps.
Section III contains the appendices, with commentary on the techniques and protocols from the first two sections.
Features: Includes common conditions such as plantar fasciitis, rotator cuff tendonitis, and arthritis of the knees and hip. Diagnosis and assessment is summarized from both western and Chinese medical perspectives. And typical orthopedic recommendations are clearly listed for each injury. The Acupuncture Handbook uses a simple Four Step approach, making point selection and needle technique simple, logical, and systematic. Treatment protocol includes trigger points, motor points, and other needle techniques not commonly discussed in the standard acupuncture texts. Detailed illustrations and descriptions allow for more precise treatment.
The Acupuncture Handbook of Sports Injuries & Pain
Check availability and prices at Amazon